Megan Welsh Carroll
Associate Professor, Public Affairs
Projects: "Nowhere to go: How the criminalization of homelessness harms health and well-being in San Diego" and "Community Perspectives on Homelessness and Homeless-Serving Facilities in San Diego"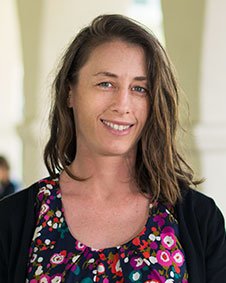 Megan Welsh is an Associate Professor in the School of Public Affairs, where she teaches courses on research methods and data analysis for social scientists, as well as special topics courses on homelessness and racial and gender (in)justice. Students in Dr. Welsh's classes get the opportunity to engage in "real world" field research on pressing issues confronting our local communities, including homelessness, housing insecurity, public safety, and climate change.
The main goal of Dr. Welsh's research is to inform community-based solutions to poverty and climate change that are rooted in people's wisdom about the specific needs of their communities. Dr. Welsh especially enjoys partnering with social service organizations and advocates to conduct research to inform more just and equitable public policy.
Some of Dr. Welsh's current projects include: a regional assessment of bathrooms and other basic health and sanitation resources in the San Diego region; an examination of the effects of unsheltered people's encounters with police on health decision-making (funded by the University of California's Office of the President); and the effects of climate change-related flooding on community residents' participation in green infrastructure initiatives (funded by the National Science Foundation and in partnership with the City of Imperial Beach).
Dr. Welsh holds a doctorate in criminal justice from John Jay College of Criminal Justice and the CUNY Graduate Center, and bachelor and master degrees in social work from UC Berkeley and Temple University, respectively.