Brian Adams
Professor, Political Science
Project: "Community Perspectives on Homelessness and Homeless-Serving Facilities in San Diego"
Publication: "Community Acceptance of, and Opposition to, Homeless-Serving Facilities"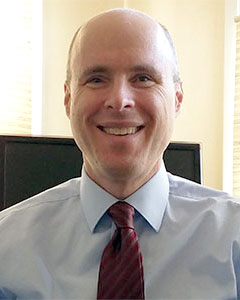 Brian Adams joined the political science department at SDSU in 2003 after earning his Ph.D. from the University of California, Irvine. Brian's research explores why local governments do not live up to their democratic potential. As small jurisdictions, localities should be "closer to the people," allowing for more extensive citizen participation and greater accountability. Yet participation in local government is dismally low, and local officials are often unresponsive to citizen demands. Local governments, rather than being hotbeds of democratic activity are often corrupt and unresponsive entities dominated by elites. What accounts for this pattern?
Brian's research approaches this question from a few different angles. First, he has analyzed non-electoral participation in local politics in an effort to assess how citizens participate. His 2007 book Citizen Lobbyists found that citizens take advantage of the many opportunities they have to participate and benefit from their participation in terms of promoting favorable policy and acquiring knowledge about the policy process. But given the manner in which they participate and the issues they choose to influence there is little benefit to the political system as a whole. He has also done research on how citizens discuss policy issues, finding that they offer evidence to support their claims but usually neglect to tie evidence and conclusions together in coherent arguments. They also avoid working through disagreements, preferring to deflect or simply ignore opposing viewpoints. Deliberative conversations among citizens typically comprise of strings of conclusions and evidence without much coherence or back-and-forth exchange.
A second strand of Brian's research has examined local elections as a democratic practice. His book Campaign Finance in Local Elections: Buying the Grassroots examines whether the campaign finance system undermines the capacity of local elections to enhance the democratic character of American elections more generally. As the smallest units in the American political system, localities have the potential to contribute to democratic practices by fostering accessibility to the political system, promoting competitiveness, and reducing the biases seen in state and national elections. Yet the manner in which local candidates raise and spend campaign funds undermines these goals. Another article on local elections found that municipal candidates with a business background are less successful than those with political experience
The final line of research focuses on conceptualizing the relative benefits of local governance. In a recent article ("Assessing the Merits of Decentralization: A Framework for Identifying the Causal Mechanisms Influencing Policy Outcomes") Brian developed a new theoretical framework that explicates the causal mechanisms through which decentralization (moving policy authority from central governments to local ones) alters the motivations and behavior of government officials.
He is currently working on a research project that explores how individuals participate in local politics. When individuals engage in political activity they have many choices as to how to do so, such as what issues to try to influence, what activities to engage in, and what organizations to join. The central goal of the research project is to understand why people make the choices they do and what consequences that has for local politics.
In addition to research and teaching courses at SDSU, Brian has done two stints of teaching overseas. In 2009, he spent six months at Hanyang University in Seoul, South Korea on a Faculty Fulbright grant, teaching American Politics to Korean students and researching Korean local government, For the 2011-12 academic year he taught at the Hopkins-Nanjing center in Nanjing, China, teaching courses on democracy and American politics to Chinese master's students.